Sony Ericsson declined Google's invitation to build the Nexus One
This article contains unofficial information.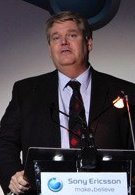 Just think about the situation that was happening when Google was in the works with HTC building the Nexus One. HTC must have felt so privileged to be offered the opportunity to be given the chance to build the handset when Google came to them. In reality, Sony Ericsson was asked before HTC to take the prestigious honors of being the chosen manufacturer to be picked first. In a stunning twist of crazy events, Sony Ericsson CEO Bert Nordberg shared some interesting news with Swedish publication Sydsvenskan surrounding the moment when they were contacted by Google in regards to building their phone. Sony Ericsson reluctantly turned down the opportunity saying that they were committed to building only its own branded hardware and will not be a subcontractor to anyone – goes to show how they might feel impervious to the might of other companies. Still, it's unclear if they would've gained any additional recognition if they did partner with them – sure they have the Xperia X10 down in the pipelines and still is garnered by many, but the wait people will be expecting to sit through in seeing the handset may make them look elsewhere.
source:
Sydsvenskan.se
(translated) via
Engadget