Sony Ericsson Xperia X10 will set you back with $879, gets delayed?
12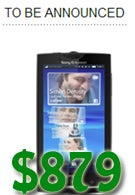 The Wall Street Journal reports that speaker for Sony Ericsson has mentioned the retail price of the Xperia X10 - about $879. Moreover, he also confirmed the X10 would hit the shelves in Q1 2010, but failed to say anything about the
information that had appeared three days before
at the manufacturer´s official website for the UK that went the Xperia X10 was to roll out February 2010. Now, however, we can see the previous release date has been replaced with the rather uninformative "TO BE ANNOUNCED" that even lacks "soon". The change led to speculations that the phone would be delayed indeed, although we still don´t have official confirmation of the rumors. Actually, it might as well turn out the X10 is coming sooner. It´s going to take some time until we figure out what´s going on, but we will keep an eye on the whereabouts of the promising device and, of course, will keep you posted on any news about it. If you know more or have interesting materials about the device, please share them with us and tip us off at
tips@phonearena.com
.