Sony Ericsson Xperia Arc S and Xperia neo V are now available in the U.S.
10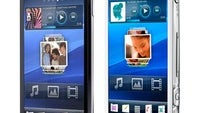 Two new Android smartphones made by Sony Ericsson just landed on U.S. soil
– the Xperia Arc S and the Xperia neo V. The tricky part, however, is that you would not find them on the shelves of any wireless carrier, or at least no for now.
Both the Sony Ericsson Xperia Arc S and the Xperia neo V are available for purchase only through the company's online store at this time, where they can be bought for $550 and $350 respectively and with no carrier contract attached.
So, what exactly do you get for your money? The Gingerbread-flavored
Sony Ericsson Xperia Arc S
is an upgraded version of the original Xperia Arc and comes with a faster, 1.4GHz processor. Its front is graced by a 4.2-inch touchscreen with 480 by 854 pixels of resolution. The Reality display is what the company prefers calling it, which is another way of saying that its contrast and sharpness are getting a boost while displaying photos or videos. The 8.1-megapixel camera on the smartphone's back has an Exmor R sensor and can capture 3D and 2D panorama shots. Last but not least, the Arc S is quite a looker thanks to its curved design and slim profile.
The
Sony Ericsson Xperia neo V
is pretty similar to the original xperia neo – it retains the looks and design of its sibling and comes with the same 1GHz single-core Qualcomm chipset. However, it gets a 5-megapixel camera instead of an 8-megapixel one, and Android 2.3.4 is what runs on it out of the box. On the smartphone's front you will find a 3.7-inch touchscreen with a resolution of 480 by 854 pixels and a front-facing camera right above it.
Anyone thinking of getting one of these smartphones? Feel free to share your thoughts by dropping a comment below.
XPERIA™ arc S AND XPERIA™ neo V FROM SONY ERICSSON ARE NOW AVAILABLE IN THE U.S.
WHAT: The Xperia™ arc S and Xperia™ neo V from Sony Ericsson are now available for purchase in the U.S. at the Sony Store. The Xperia™ arc S and Xperia™ neo V showcase an enhanced entertainment experience with the latest Sony technology and Android™ operating system, version 2.3.4 (Gingerbread).
The Xperia™ arc S and Xperia™ neo V feature Sony's groundbreaking 3D sweep panorama technology, which enables image capture and viewing in 3D by connecting the phone to a 3D TV using the HDMI output, so you can show off those amazing pictures from your last vacation or that video of the flash mob you saw today to your friends and family.
This version of Android™ Gingerbread includes new functionality and features that allow you to benefit from improvements to Sony Ericsson's unique Facebook inside Xperia™. Share, see, like and comment on all your favorite stuff – from tracks on your music player to photos from your gallery and even apps and games downloaded on your phone.
Xperia™ arc S Key Features and Pricing:
Android™ 2.3.4 operating system
1.4 GHz processor
8.1 megapixel camera with Exmor R™ for mobile image sensor
4.2" Reality display with Mobile BRAVIA Engine® Engine
3D and 2D sweep panorama photography
Available in Pure White, Gloss Black, Midnight Blue, and Misty Silver
MSRP $549.99, unlocked
Xperia™ neo V Key Features and Pricing:
Android™ 2.3.4 operating system
3.7" capacitive, multi-touch screen
5 megapixel camera with 16x digital zoom
Front-facing camera
Available in Pearl White, Silver, and Blue Gradient
MSRP $349.99, unlocked
Android™ 2.3.4 – At a Glance*
Xperia™ smartphones introducing world's first 3D sweep panorama functionality powered by Sony
Updated Facebook inside Xperia™ functionality for enhanced like, share and discover abilities
Gesture input – text input by swiping the finger from one letter to the next
New features including Google™ Talk with Video Chat for smartphones with front-facing cameras
Availability:
The Sony Ericsson Xperia™ arc S and Xperia™ neo V are available unlocked, at Sony Store. Additional availability can be found at other retailers such as Newegg.com starting early December. Check for pricing and availability.
* The Android 2.3.4 upgrade is currently rolling out for select unlocked 2011 Xperia™ smartphones as an over-the-air update or through Sony Ericsson PC Companion