Sony Ericsson "Kumquat" will launch as the Sony Xperia U
10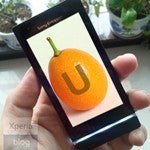 We just recently heard about the Sony Ericsson Kumquat, and mercifully it's being reported that the midrange Android handset will ship with a different name. Of course the majority of phones ship with a name that is different from their code name, but few code names are as ungainly as "kumquat".
The phone will apparently ship after Sony officially buries the "Ericsson" part of their branding; this is a move that was expected after Sony bought out Ericsson's half of the joint venture. As a result the S-E Kumquat will come to market as the Sony Xperia U. The name still conjures up images of a college that specializes in mobile technology, but at least it's consistent with the naming convention of the rest of the Xperia line.
The phone is expected to have a 3.5" 480x854 pixel screen, a "mid-range" 1GHz dual-core CPU, and a 5MP rear camera. The design aesthetic seems to match the larger
Xperia S
. While the Xperia U won't pack quite as much under the hood as the Xperia S, the size may appeal more to people who want an iPhone-sized Android device.
What do you guys think? Did anyone out there prefer the name Kumquat to Xperia U?
source:
GSMArena
via
AndroidGuys