Something special happening to KitKat's Android website? Authentication now required
9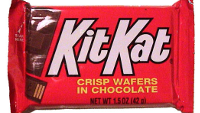 It seems that Nestle and Hershey, the two chocolatiers that make the delicious KitKat candy bar in Europe and the U.S. respectively, have been having a lot of fun being connected to something as high tech as the next build of the Android OS. Of course, the downside is having to put up with irate Android fans constantly asking when Android 4.4 is going to launch. Both Hershey and Nestle probably have a better idea when KitKat is going to
lunch
.
Up until today, had you pointed your browser in the direction of www.kitkat.com/Android, you would have been greeted by a witty 404 error page that said, "
Darn, you've stumbled across the only kind of break we don't like
." But those that went to check out the web address on Monday were greeted by something different in the form of a log-in box seeking authentication.
This would seem to indicate that the guys at Nestle are planning something in conjunction with the upcoming launch of KitKat the OS. We will keep checking in to see what Nestle plans on doing with the site. Meanwhile, we've gained about 10 pounds eating nothing but KitKat bars, waiting like expectant new dads for both Android 4.4 and the
Google Nexus 5
.
source:
KitKat
via
Phandroid