Somersby brings the art of Apple-mocking to perfection with latest ad
19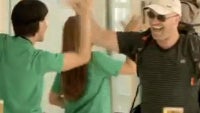 Samsung might have made an art out of mocking Apple products and fans, but this here ad by Somersby Cider takes it to the next level. Mocking a typical Apple launch with a huge impatient crowd in front of a glassy store, Somersby's Apple ciders checks all boxes: it's wireless, it comes in a single and dual-core varieties, and it docks... naturally.
Plus, it's extremely easy to download the whole content and works perfectly in direct sunlight. But enough with the teasers.
"Less apps, more apples,"
the Sommersby Cider ad below is brilliant. Take a look.
Ad agency: Fold7, London.
source:
SomersbyCiderUK