Some overseas Apple online stores run out of launch day inventory for the new iPad
2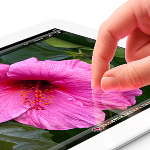 Electronista
, some overseas online Apple stores have
already run out of launch day inventory
of The new iPad. As of Thursday evening, online stores in Canada, France and Germany were promising delivery of the third generation Apple tablet no sooner than March 18th. The tablet will launch in those countries and others on March 16th.
With the exception of the AT&T LTE version of The new iPad,
which already shows delivery past this weekend
, U.S. online stores are still offering launch day shipping of the device. While online stores have had a run on inventory, brick and mortar Apple Stores, even in Canada, France and Germany, should have a
large number of tablets
on hand.
The introduction of The new iPad brought a surge of traffic to Apple's online store and parts of its website which made it impossible to access them. This will be the Cupertino based firm's
largest launch to date
with some estimating that as many as 9.8 million iPads will be bought on launch day.
While some overseas online shoppers will face a few days delay in receiving their order, it
doesn't sound like iPad customers will be facing the major shortage
that some had predicted earlier.
source:
Electronista