Report claims iPad 3 launch may face shortages
13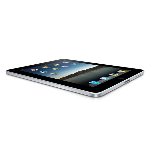 This is one of those stories that we just can't help but take with a grain of salt, because it feels like every time Apple is releasing a new iOS device, it faces some sort of component shortage. Of course, unless you're planning to line up late on launch day, you may not notice any shortage.
A new report from DigiTimes says that info from component suppliers (which DigiTimes often gets right) says that the new QXGA iPad screen (2048x1536) hasn't seen the ramp-up in production needed for the launch. LG, Samsung and Sharp are all hard at work producing the screens for Apple, but haven't been able to produce enough screens. DigiTimes goes on to predict (which is where many DigiTimes stories become unreliable) that this means the iPad 2 will continue as the "mainstream in shipments" through Q1, until iPad 3 shipments can really get going in Q2.
First, of course the iPad 2 will be the "mainstream in shipments" in Q1 because Q1 runs from January through March and the iPad 3 isn't even being released until March 7th at the very earliest. For all we know, Apple will take this "shortage" into account and announce the iPad 3 on March 7th, but not release the tablet until later in March. Second, unless the report has actual numbers for production and the shortages, none of this information really means anything. We don't doubt that there is a shortage, but if it means cutting iPad 3 shipments from 10 million units to 8 million, will that really make a difference to consumers? And lastly, even if there is a shortage in stores, it doesn't mean people will suddenly flock to Android. It just means the secondary market on eBay and Craigslist will go through the roof and more casual consumers will wait a month or two.