Some Android users are receiving a $5 credit from Google for the purchase of a book
5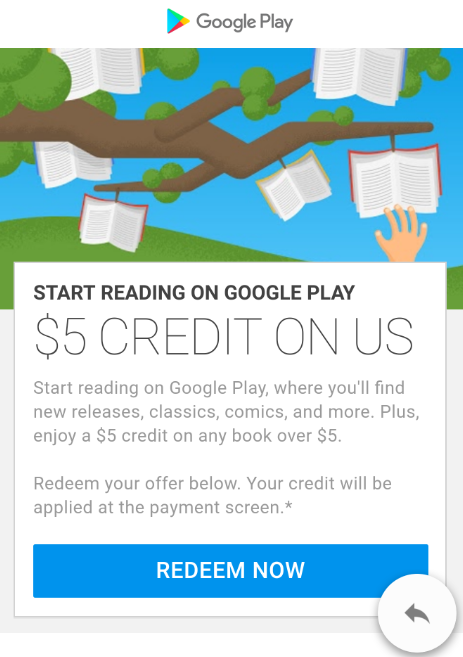 Google will give you $5 off the purchase of certain books purchased from the Google Play Store
Google is willing to give you a $5 credit toward the purchase of certain books or comics that are priced at more than $5. The offer can be redeemed by clicking on the blue "Redeem Now" box. The $5 credit will appear at the payment screen. You can redeem the offer no later than September 30th, and once the offer is redeemed, you have until October 12th to use the credit. Titles that can be purchased using the credit can be changed at Google's discretion. The price of a book purchased with the coupon must be $5.01 or higher.
Click on the Google Play Books app to see if you have received the offer. If you haven't yet purchased a book from Google, the odds are that you will receive the offer for the $5 credit. If you let the offer expire without taking advantage of the discount, don't worry. Google does offer these deals from time-to-time as it seeks to get Android users into the habit of purchasing books online.
Some of the books eligible for the $5 credit include:
It by Stephen King-($11.99 before credit)
What Happened by Hillary Rodham Clinton-($14.99 before credit)
A Game of Thrones: A Song of Ice and Fire: Book One by George R.R. Martin-($6.99 before credit)
Enemy of the State by Vince Flynn-($14.99 before credit)
Behind Closed Doors: A Novel by B.A. Paris-($9.99 before credit)
These are just a few of the titles available for purchase with the $5 credit.

source: Google