Sleek Chromecast speaker with a vintage feel: Solis SO-7000 hands-on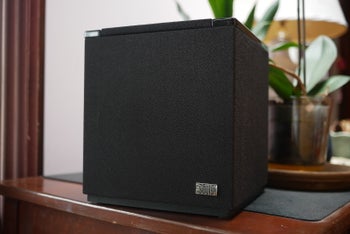 What's the first thing that comes to your mind when you hear the word Solis?
Probably something, like, related to the sun or something, right? Well, you're wrong. Solis is a speaker manufacturer that offers some uniquely styled speakers with a focus on packing a punch for audio and features for better usability. Not to mention their products are competitively-priced. The Solis SO-7000 is one great example of this. Selling for $299, this 360-degree Bluetooth speaker adds Chromecast compatibility to its connectivity repertoire, while offering sleek looks and big sound to match.
Design
FEATURED VIDEO
Unfortunately, you can't take this beaut' around with you, as it lacks a rechargeable battery, but given its hefty build and furniture-esque quality, we're quite OK with the idea of sticking this piece in a room and leaving it.
Functionality
The SO-7000 does pack a handy trick, though, in its Chromecast compatibility. So, not only can you use
Google Assistant
from your phone or Google Home to control volume and playback on this speaker, but it can also stream music through Wi-Fi (Chromecast) from a compatible device such as computers, Android phones, etc. This feature also allows the SO-7000 to be used as part of a multi-speaker, whole-home audio setup along with any other Chromecast enabled speakers – a perk we love to have in tow.
To be clear, Google Assistant isn't integrated into the speaker, nor are any music-streaming services, but its built-in Chromecast capability allows it to be controlled by the Google Home app, and Google Assistant for streaming audio playback and controls.
Sound Quality
Conclusion
The Solis SO-7000 is an impressive, hidden treasure of a speaker. Its sleek, almost vintage looks and premium build quality set it apart from most Bluetooth speakers on the market. While its angular shape seems counterintuitive to 360-degree sound, audio is very well-distributed. Loud, bassy, crisp sound marks the sound signature of this speaker, and Chromecast compatibility ratchets up the value with multi-speaker, whole-home audio capabilities. It's hard to find much fault with this speaker, and though its $300 price tag may be perfectly justified, it may have some trouble grabbing consumers over better-known brands. Our advice? Don't let unfamiliarity stop you from checking out a great speaker.