Snapdragon S4 Pro rocks the benchmarks, shown off in a $1,299 developer tablet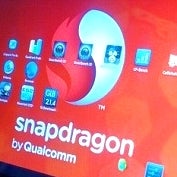 In case you needed more evidence proving that the
Snapdragon S4 Pro
with Adreno 320 graphics is the biggest, baddest mobile processor around, here comes a fresh dose of benchmark results showing the chip's potential. The benchmarks were conducted during a private event hosted by Qualcomm, at which a developer-oriented tablet equipped with an APQ8064 chipset was shown off.
Actually, demonstrating processing prowess was not the primary goal of Qualcomm's event, reports
IntoMobile
. The chip maker focused highly on understanding what all those synthetic benchmark results truly reflect. Well-chosen topic, we must add, for we have always known that high benchmark scores do not guarantee buttery-smooth, real-life performance. To no surprise, Qualcomm also used the opportunity to speak of its competitors and their purportedly non-optimal approaches to making mobile silicon.