Snapdragon 805-equipped Amazon HDX tablet spotted on AnTuTu
8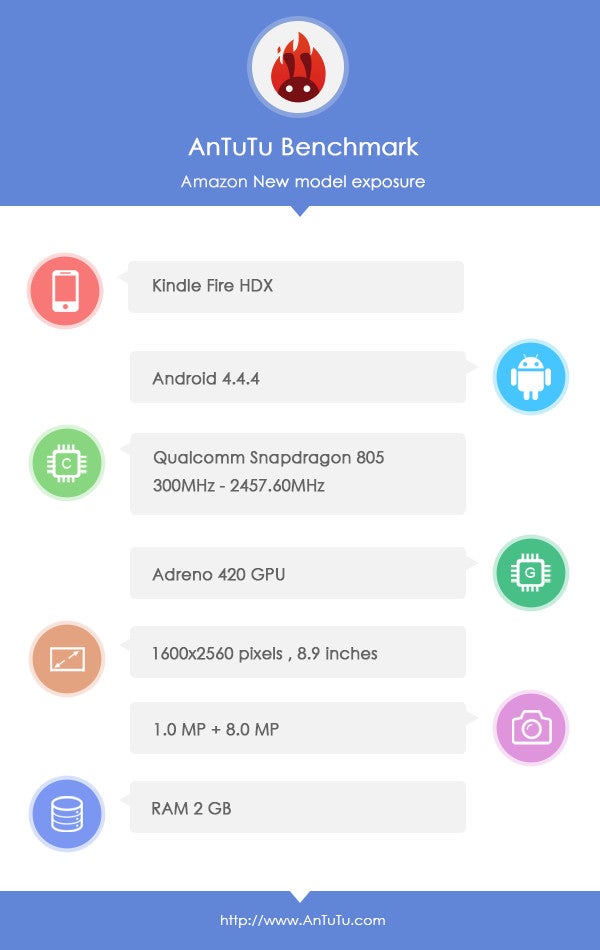 The folks behind the AnTuTu performance benchmarking app, ever on the lookout for yet-unreleased devices that pass through their domain, have been rewarded with yet another catch: a likely
Amazon Kindle Fire HDX 8.9
tablet successor.
The only difference between this new device appears to be the processor and the version of Android that's powering it. More specifically, if we assume that this is an upcoming upgrade to Amazon's tablet line, then we can conclude that the next HDX 8.9 tablet will make use of Qualcomm's very latest and most powerful Snapdragon 805 chip with a new, Adreno 420 GPU, and that it will also probably run on the the very latest Android 4.4.4 KitKat update.
The rest -- the 8.9'', 1600 x 2560 pixel resolution screen, along with the 2GB RAM module and 8-megapixel rear-facing camera, remain unchanged from the current
Amazon Kindle Fire HDX 8.9
.
Are things brewing over at Amazon's HQ? It certainly appears so, though we'll have to wait and see before we know for certain.