Snapchat under fire for featuring a "racist" filter
22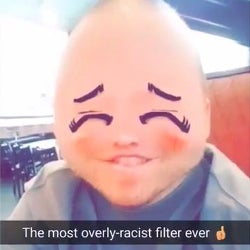 Snapchat lenses are among the app's most fun features, and probably the main reason why some users still stick with the app. It's an innovative take on filters, where the app detects and tracks the user's face and can place various masks on it in real time, making for fun pictures or videos. A while ago, the company planned to monetize lenses by having some of them
locked behind a paywall
, and having users buy them if they want to keep them in their library. Instead, however, Snapchat chose to keep them free, but cycle through them in time intervals. As a result, lenses have an exclusive feel, as they may disappear at any time with no one knowing when they would be back — a cool move to motivate users to use the app as much as possible, as their favorite lens might soon be gone.
Having to come up with new, fun, and engaging lenses as often probably puts quite the pressure on the development team and stepping on somebody's toes is often a possibility. The company has been scrutinized before for it's "Bob Marley" lens, which made the user look like the famous singer. However, social... let's say socially engaged users noted that the filter has a racist tone to it, due to the fact that it paints the pictured person's face black – the so-called "Blackface" effect, which is often frowned upon when used in any type of media.
With the latest batch of new lenses, Snapchat added a new one, which it says is "anime-inspired". However, some users found it to be offensive and took to Twitter, quickly dubbing it "Yellowface". The filter in question changes the person's skin tone to be lighter and smoother, arguably yellow-ish, adds a blush to their cheeks, rounds out the face, and adds squinty, anime-styled eyes. According to posts, this could be taken as a jab at people of Asian descent.
Naturally, the lens has now been removed and will not return in the future. Snapchat did not go as far as to apologize in its response to the scrutiny, but it did note that lenses are meant to be fun, not offensive to any one group of people. Most probably the filter in question was meant for fans of anime shows and manga comics, but oh well – sorry, you can't use it now.
When all is said and done, one has to wonder – are the raccoon and bunny lenses offensive to furries?
source:
The Guardian
via
Digital Trends