Snapchat's redesign of its redesign now out for iOS users
7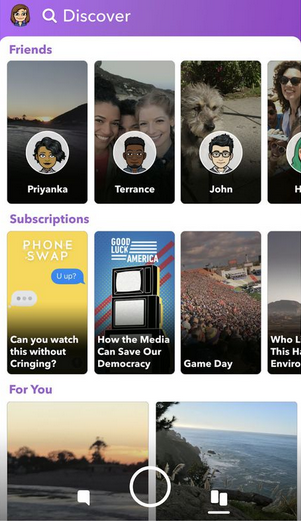 Redesigned Discover page for Snapchat's iOS app
Late last month, we told you that
Snapchat was testing a redesign of its UI
. The last time Snapchat made a change like that, it caused 1.2 million people to sign a petition on Change.org demanding the old Snapchat back. The latest changes actually go a long way toward restoring peace and tranquility for subscribers of the messaging app. Once again, Snaps and Chats will be seen in chronological order, and you will find Stories from friends on the right side of the app. Stories and messages will be apart from each other, and a separate subscriptions feed will allow users to find content from their favorite publishers.
The redesign's redesign is rolling out to iOS users now. As for those sporting an Android handset, there is no word from Snapchat parent Snap about when that platform will receive a similar update.
Back in February, Snapchat co-founder and Snap CEO Evan Spiegel said, "We completely understand the new Snapchat has felt uncomfortable for many." After
the company disappointed Wall Street with its first quarter report
, the executive blamed the redesign for disrupting user behavior and causing some concern among its advertisers. Snap hopes that its replacement for CFO Drew Vollero calms everyone down. Vollero quit the company last week and is
being replaced on May 15th by former Amazon vice president of finance, Tim Stone
.
"We learned that combining watching Stories and communicating with friends into the same place made it harder to optimize for both competing behaviors. We are currently rolling out an update to address this by sorting communication by recency and moving Stories from friends to the right side of the application, while maintaining the structural changes we have made around separating friends from creators and sorting friends' Stories by relationships."-Evan Spiegel, CEO Snap
Snap recently
announced its new AR games called Snappables
, and
introduced a refreshed version of its Spectacles video recording sunglasses
.
source:
TheVerge