Smoked by Windows Phone campaign stats unveiled, over 50,000 phones smoked to date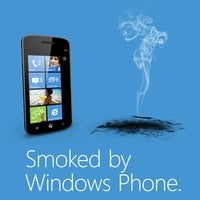 Frequent readers are probably familiar with the
Smoked by Windows Phone campaign
, which kicked off in January during CES. It has been four months since then, and team Windows decided that it is a good time to reveal some stats about the marketing stunts.
To start, videos of the Smoked by Windows Phone challenge have been viewed more than 8 million times so far, and some of these videos are still high up the YouTube charts. Over 50,000 phones have been smoked across 36 countries around the world, with only 638 challengers managing to beat Windows Phone. Overall, the winning percentage of Microsoft's mobile platform stands at 98%. Last but not least, it is estimated that over 100 million people worldwide have heard of the Smoked by Windows Phone campaign. Well played, Microsoft, well played!
In a nutshell, the Smoked by Windows Phone campaign is a success, despite probably
not being something we would call fair
. That is why Microsoft is not stopping here. More advertisements based on the challenge have been released, and you might even spot them here and there while browsing the web. Check out the first one below and let us know what you think.