SmokeBeat will use your smartwatch to help you quit cigarettes
1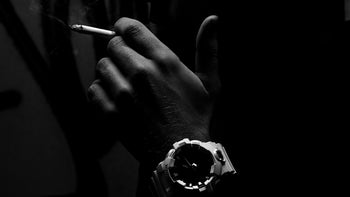 Smoking has been a terrible habit for many people worldwide since... well a long time. And many struggle with quitting nowadays, despite the fact that smoking is prohibited in a ton of places and the price of a cigarette pack isn't exactly low. Yet, tons of smokers persist — "Hang out on the balcony, in sub-zero temperatures for the next 10 minutes? Count me in!".
Of course, as with anything, there are
a lot of apps
that try to help you quit smoking. But it's easy to cheat on an app. It's even easier to just forget entering your consumption data manually. This is where Somatix — the developer behind one of these apps, called SmokeBeat — comes in.
Somatix has figured out a way to use your smartwatch to track how many cigarettes you've had today. According to the company, it's algorithm will be able to distinguish when one has just lifted their hand up to scratch on their mustache, eat something, or have a puff of smoke. After the watch does the readings, the app does the rest — break down how many cigarettes the user has had over a period of time, how much time they've wasted just standing around and puffing on the poison, and even calculate how much money that has cost them so far. Active notifications will also nudge users to slow down with the smoking. Those that have decided to quit over a period of time will find pre-made plans to reduce their consumption and the app will make sure it's followed.
All that is left now is to remember to always smoke with the same hand that has a smartwatch on!
Well, the app is not updated with the new tech yet and it's unknown when it would hit, but you can take a look at it right now, if you so wish:
SmokeBeat:
Android
|
iOS
Recommended Stories