Smartphones with big screens are stupid, says Nokia
88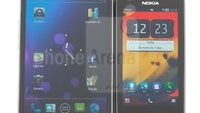 Yes,
"stupid"
was the exact word that Nokia's Niklas Savander used during an interview with
Pocket-Lint
. He also described the phenomenon of consumers wanting bigger and bigger displays as "monster truck syndrome", which is a desire that doesn't make sense at all, as people would one day realize. Furthermore, Savander pointed out that instead of just making screens bigger and bigger, companies should focus on creating new technologies.
Now, we know that many of you say that having a smartphone with a humongous display, be it for watching photos, videos, or playing games, is simply awesome. And that is indeed true, but other than that, the extra large size of the device takes a huge toll on the device's portability and make it more or less unusable with a single hand.
Currently, the
Nokia Lumia 900
has the biggest display on any Nokia smartphone measuring at 4.3 inches in diagonal. In comparison, other companies are pushing the boundaries much further with screens of 4.7 inches and above.
At the end of the day, we cannot agree that having a smartphone with a big display is stupid. Rather, it is a matter of personal preference. Some people prioritize the rich multimedia experience that a huge screen can deliver, while others prefer smartphones that fit perfectly in smaller palms. What do you, guys, think? What is your preferred display size?