Smartphones are distracting both drivers and pedestrians
13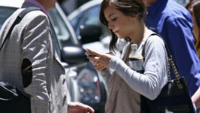 Insurance firm State Farm recently conducted a survey and found that compared to 2009, fewer people are talking on their handset while driving. However, the number of those behind the wheel who admit to texting is up 5 percentage points to 36% over the same period. State Farm's survey found that 48% of drivers who text would stop doing it if it led them to be involved in a crash. 42% said they would stop once they started to worry about having to pay a fine. 36% said that if they thought that the cops would pull them over, they would stop.
In the U.S., 46 states now have laws on the books that ban drivers from texting; 14 don't allow hand-held use of smartphones while operating a vehicle, while 38 have some restrictions. Although the cops can use real-time location finders to determine if a smartphone was involved in an accident, pulling over a driver using an iPhone illegally is a much harder task.
Driving while using your smartphone is bad. But so is walking with your head down staring at your phone. It is no coincidence that the rise in smartphone use has taken place at the same time that emergency rooms have seen a sharp increase in distracted walking injuries. Interestingly, most people point their finger at others. 75% say that it is other people who walk around in a distracted state because of their handset, not them.
A spokesman for the American Academy of Orthopedic Surgeons, Alan Hilibrand, says that a survey conducted by the group found that 90% of the respondents have seen people walking around, distracted by their phones. 64% describe these people as being "zoned out." Yet, only 38% say that they have been zoned out themselves. Hilibrand says that 60% of pedestrians are preoccupied with their phone. To end this issue, he recommends that people force themselves to put down their handsets and focus on what is in front of them.
source: WashingtonPost