Smartphone shipments grew 45% annually, Samsung captured a record 35% market share in Q3 2013
12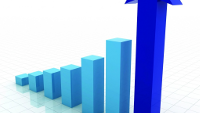 The latest research figures from Strategy Analytics show an impressive quarter for the smartphone industry as a whole, and at least a few key players in particular. For starters, smartphone shipments grew an outstanding 45% from the year-ago, reaching a little over a quarter billion, up from 'just' 172.8 million units in Q3 2012. That's a record right there – the industry has never in its history had a stronger quarter.
As we recently brought to your attention
, penetration has finally passed its tipping point, and now 6 out of every 10 mobile devices are smartphones, which is great news. The analytics firm points out that demand for LTE phones is great in developed countries, whereas emerging markets, such as China, are looking at a great surge in 3G phones demand.
The almighty Samsung is doing better than ever, beating the industry average by growing 55% annually. This equals a whopping 88.4 million units sold, or 35.2% of the entire market – it's caviar and champagne at the company's headquarters, that's for sure. Strategy Analytics notes that while demand for the Galaxy S4 has softened, demand for the company's Galaxy Note 3 phablet, along with mass-market offerings, such as the Galaxy Y, have helped lift Sammy's sales.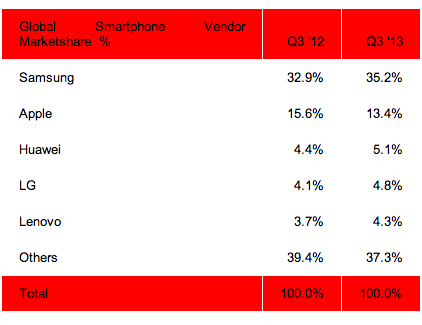 A solid second is Apple, of course. The Cupertino-based giant shipped 33.8 million iPhones this last quarter, up from 26.9 million a year earlier. This translates to a 26% growth, meaning that Apple is actually growing at half the speed of the industry on average. This figure also means that Apple's market share has also taken a noticeable hit – down 2.2% to 13.4%. The report notes that despite this arguably poor showing, Apple will rebound soon enough, as next quarter should be markedly improved, due to strong iPhone 5s demand.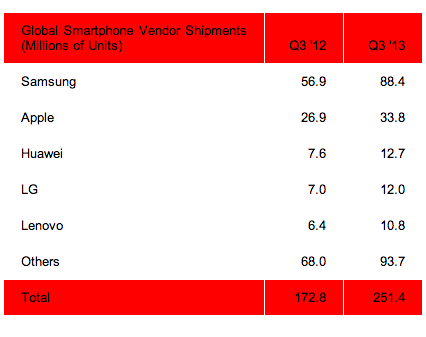 The remaining three contenders are Huawei, LG and Lenovo, in that order, and together account for a little shy of 15% of the entire market, so still a long way from confronting the leading duo.
Huawei is one of the industry's star performers, growing a remarkable 67% on-year, or 12.7million units shipped in Q3 2013. The Chinese company now accounts for 5.1% of the worldwide market, though its positions are mostly strong on its own turf, with performance in the US and Europe needing a lot of attention.
LG is only slightly behind Huawei, having shipped 12 million units this last quarter – a mind-blowing growth of 71% annually. Sammy's local rival is currently the fastest-growing vendor, though unlike Huawei, it's actually strong in the US and Europe, and weak in China and India.
Taking the fifth spot is Chinese Lenovo, and it's performance has been no joke either. It now accounts for 4.3% of the worldwide smartphone market, having shipped some 10.8 million units in Q3 2013, or about 68% worth of growth. As you probably expected, its popularity is mainly local, though its expanding internationally, and we can definitely see Lenovo becoming a worthy contender one day.
That's about it, folks. In a nutshell, it's a glorious time to be a smartphone enthusiast – technology is evolving, demand is going up and prices down, and we have more diversity than ever.
source:
Strategy Analytics