Smartphone sales are strong in the Middle East and Africa
8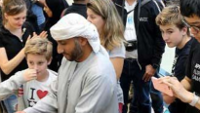 During the third quarter of this year, smartphone sales rose 31% in the Middle East and Africa region. That is close to triple the growth rate seen in other regions. Still, it wasn't blue skies for all of the manufacturers. Samsung saw its leading market share in the region decline by 8.7 percentage points, or 17.5% to 41.1%. Huawei was second with a 9.3% market share, a gain of 2.3pp from the same quarter last year.
Tecno, a smartphone manufacturer based in Africa, saw its third quarter market share soar from last year's 4.8% to 8.2% in Q3 2015, up 71%. TCL-Alcatel was fourth with a 4.5% market share, down from the 5.9% it had last year. Apple was fifth with a 3.9% slice of the smartphone pie in the Middle East and Africa. That is a 77% year-over-year gain in market share.
More than half of the handsets purchased in the region are smartphones, although less than one-third support LTE connectivity. Apple currently accounts for 10% of the market's sales of LTE-connected smartphones. Some of the iPhone sales in the Middle East are coming from consumers in India, who find that purchasing the iPhone in Dubai saves them on taxes and an exchange rate that is not in their favor. Two new Apple Stores have just opened in the UAE. Those stores have been frequented by consumers from India, looking to pick up the iPhone at a cheaper price.

Samsung still has the top smartphone market share in the Middle East and Africa
via
AppleInsider