Slow-motion madness returns: The LG G Flex 2 gets put through its paces, water, trucks, and a 50-cal
8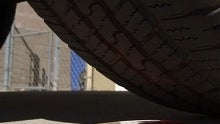 It has been a while since we have been entertained by the slow-motion torture and destruction of our favorite gadgets in the desert sun, but the action is back with a vengeance, and what better to kick things off with than putting the new
LG G Flex 2
through the wringer?
Richard Ryan and his cohort of high-speed cameras, now rebranded as
FullMag
and reviving the
Tech Assassin
moniker for special gadget destruction, put the G Flex 2 through the standard dunk and drop test which is useful, but if you know Ryan's M.O., then you know there is bound to be more.
The LG G Flex 2's redeeming quality is flexible chassis and curved form factor, making it comfortable to hold in the hand, and harder to break or scratch (thanks to its self-healing back plate). The G Flex 2 was also the first device to announce its use of Qualcomm's fresh new 64-bit Snapdragon 810 CPU. Packing a capable 13-megapixel camera with laser auto-focus, expandable storage (this time), and more svelte packaging, the LG G Flex 2 has a lot of desirable features.
How will it put up with everyday trials like dropping or dunking? Pretty well. What about that all-too-often occurrence when your phone gets run over by a full-size pickup truck? Well, we don't want to spoil it for you. The whole affair reaches a predictable climax when the LG G Flex 2 is propped up to face the mighty Barrett M82A1 50-caliber rifle.