Slide shows Odin refresh specs for BlackBerry Storm 3
This article contains unofficial information.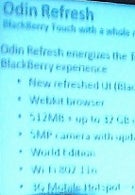 A picture of a slide presentation shows some of the new specs for the BlackBerry Storm's Odin refresh aka the Storm 3. The two most important changes will be the OS refresh to the BlackBerry 6. More finger-friendly than previous 'Berry OS builds, the new OS combined with the inclusion of the new WebKit browser closes the gap between BlackBerry and iOS and Android. As the Old Spice guy might say, with these two changes alone, the Storm 3 could be the phone that you wish your phone could be. There's more. The phone has memory of 512MB with support for 32GB via MicroSD card. The camera is a 5MP model with a new UI and there is support for Wi-Fi 802.11n and the phone can be used as a 3G mobile hot spot, coming soon.
If you use an electron microscope and a magnifying glass with 100x optical zoom, you might be able to make out the bottom of the slide which reads, "___ember" which means that we could see the BlackBerry Storm 3 launch as soon as September or as late as December. RIM has been staying under the radar while Apple and Android do their thing. With the luxurious looking Touchscreen/Slider 9800 and the refreshed Storm 3, it sure seems as though RIM is going to have some very exciting models to introduce as we get closer to the holiday season. And unlike past launches for RIM, this time it seems that the changes they made came from your input.
source:
Engadget