Skype video messaging now a full feature on most platforms (except Windows Phone)
22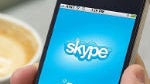 Maybe Microsoft just doesn't want to show any sort of favoritism to the platform that it created with the video service that it purchased. Or, maybe Microsoft has deeper integration planned, and would rather work towards that than adding a feature to an app. Whatever the reason, users on most platforms will be happy to know that Skype video messaging has graduated to a full feature on most platforms... except Windows Phone (and Linux).
Of course, we're a mobile tech news website, so the Linux side of things don't really concern us. The real story here is that Skype has taken its video messaging feature out of beta and graduated it to prime time on Windows 8, Mac, Android, iOS, and even BlackBerry, but not Windows Phone. Video messaging has been in
beta since February
.
The feature is exactly what you'd expect and allows users to leave video messages for someone who is offline, and that person can view the message when they come online. And, of course, video messaging is completely free.