Skyfire releases version 1.0 of its mobile browser for Windows Mobile and S60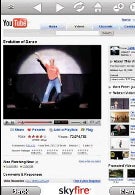 With improvements made in zooming, and navigation, Skyfire has announced the 1.0 build of its mobile browser for Windows Mobile touch/non-touch and S60 phones. The browser supports plug-ins like Flash 10, Ajax, Silverlight 2 and Javascript which allow users to view videos like those on the YouTube web site and watch television programs on sites like Hulu.
Some of the new features in this version include thumbnail navigation, which allows the user to click on a link immediately after a page loads without having to zoom in. Double-clicking or tapping on a web site will allow for instant zooming in of the area of the site that is tapped and text will be readable immediately. Navigation has also been improved as the browser returns you to the last viewpoint after the user has moved back or forward on a page. Google results will now show videos, news articles and local information all on one page, in order of relevance. And getting the browser up and running will be quicker as you will be able to type in a URL or search information into the superbar while the software is loading up in the background. There are a couple of known bugs that remain an issue, but nothing serious that will take away from the usefulness or enjoyment of the browser.
To download Skyfire 1.0, click on the source link.
source:
Skyfire
via
Phonescoop