Six great running apps for beginners (iOS and Android)
10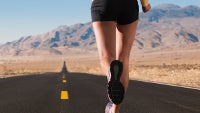 Today's technologies have enabled us to do incredible things – from real-time communication (text, voice, visual – you name it), to keeping a personal organizer, camera, web browser, media player, GPS tracker, and even a guitar effects processor in our pockets at all times – all in one device. Yes, of course we're talking about the smartphone. But even that is not all these gizmos can do – with their numerous amounts of internal sensors, they have also become fitness tracking devices, helping the sporty folk set goals and track their progress as they do their scheduled grind.
And, with all these talks about health, especially now, as smartwatches are slowly creeping their way into our lives, and all these different apps that come pre-baked on new handsets, following our daily activity levels and even reminding us to get up and go for a walk once in a while, even the most avid couch potato out there has probably had the thought about picking up jogging as a regular activity.
But where to start? It's pretty daunting to just get up and start doing it, especially if one's never ran before (outside of P.E., once upon a time, at school). An attempt without the proper education behind it usually results in one running for around 350 meters, then dropping on the ground, out of breath, and wondering how people are able to jog for hours. Well, there's a science behind building that endurance and, thankfully, a lot of developers have built apps around that science.
Yep, using the magical box we call a smartphone, you can get a personal coach, who will tell you when to run, when to walk, and when to rest, all in an attempt to make a jogging machine out of you. The phone's sensors will record your training sessions and show you your progress for that extra bit of motivation and all that's left is that you go through with it for around 2 months, until the program ends. And then? Then, just keep going!
Here are 6 apps designed to help you start building that endurance up. Notice that most of them focus around helping you run your first 5 kilometers (3.1 miles) – that's a sort of a "beginner's milestone". Are you up for the challenge?
Zombies, Run! 5K Training
Zombies, Run! is a mix between a running app and a game. Put your headphones on and you will be thrown in a post-apocalyptic world, where you fulfill the role of a "runner" – the people who go out to hunt for supplies, outrunning hoards of zombies in the process. A nice little app for those who fear that the boredom of jogging may be the end of them. Zombies, Run! 5K training is the "smaller" sibling of the aforementioned app, set in the very same world and acting as a "prequel" to the game. And, as the name suggest, it will aim to help you get to that first 5 kilometer run.
5K Runner
5K Runner is much like Zombies, Run! in that it will have a voice telling you when to run and when to walk. There are no zombies, however, but on the flip side – it's free and there are no ads, too! The app's motto sticks out – 8 Weeks, 3 Times a week, 30 Minutes a day, which is pretty much the program that all these 5K apps use. So, if you are going to try one – why not go with the one that's free, right?
5K101
5K101 is a bit more "serious" as it will encourage you to join its community, post up your session results (your route gets recorded via GPS tracking), get encouragement from current and past members or even get an accountability partner, and soak up as much information about finding your own pace and avoiding injury as you can.
Couch to 5K
We admit, we liked the name. Aside from that, Couch to 5K offers 4 different voices to choose from, GPS tracking, graphs, Facebook sharing and links to the Active.com community, and comes with a better price tag for the Android folk when compared to 5K101.
Map My Run
Map My Run will record your route so you can revisit it and try to do it better. It will also show you the routes that local runners have passed, giving you their time, so you could get competitive and try to beat them. Audio coaching is unlocked if you pay for an MVP subscription, which costs $5.99 per month or $29.99 per year.
Runmeter
Runmeter's juicier features are placed behind a paywall ($4.99). Those include training sessions for cycling, skating, skiing, running, walking and others. There are plans for 5K, 10, half, and marathon running excercises, but if these are not to your taste – you can create your own, custom sets.