Silence is golden, but not on a DROID
This article contains unofficial information.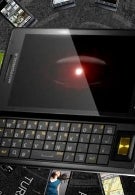 According to some Motorola DROID users who have shared their experiences on the Motorola Owners' Forum, some units have had a problem where the external speaker cuts off. Rebooting the phone usually does the trick. While Motorola has exchanged affected models for new ones, this most likely is a software related issue that could be and should be dealt with by a quick upgrade. The DROID is expected to receive a OTA firmware upgrade on December 11th, as we
reported,
so that would be a great time to fix the problem.
We have experienced this problem first hand on a DROID unit while watching YouTube and a quick soft reset fixed the problem, which has not returned. Seems that this has been the case for a few Forum writers. Anyone else care to share with us your story about balky speakers on the first Android 2.0 model, and how you remedied the situation?
Motorola DROID Specifications
|
Review
source:
MotorolaOwners'Forum