Sign at Mc Jobs iPhone fast food joint: Over 10 million served in Q4
This article contains unofficial information.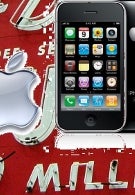 While Motorola and Verizon have been patting themselves on the back by apparently reaching an internal sales target of 1 million DROIDS sold in the handset's first-less than full-quarter of life, according to Taipei based Market Intelligence and Consulting Institute, Apple will have exceeded expectations by selling 10 million iPhones in the 4th quarter. Now, the comparison between the DROID and iPhone is not exactly an apple to Apple one as there are different models of the iPhone and the DROID figures are for U.S. sales only, but we include it here just to show you the amazing strength behind Apple's touchscreen device and to show you how big a number like 10 million is. According to DigiTimes, the sales estimate is in part based on a great quarter for the firms that supply chips for the iPhone. If the analysis holds true, it will be a record breaking performance for the gang at Cupertino, surpassing the prior quarter's total of 7.4 million units sold. And while it is way too early to make a definitive statement that the DROID is not taking sales away from the iPhone, Apple has just come through a series of highly publicized ads pointing out what its touchscreen device doesn't do and still sold like Tiara wearing, clueless hotcakes. It could be that the one thing that the iPhone DOES so much better than the competition is sell.
Apple iPhone 3GS Specifications
|
Review
Motorola DROID Specifications
|
Review
source:
DigiTimes
via
BGR