Sharp joins up with design firm to craft Feel UX skin for AQUOS
25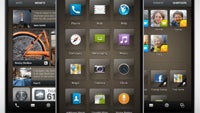 For Sharp's new line of AQUOS smartphones that are scheduled to debut in Japan for summer 2012, it will also be unveiling a completely new user experience. It has collaborated with design firm, frog, to create the entirely new "Feel UX."
Some of the features of Feel UX include:
• Personalized and innovative lock-screen experience, allowing users to browse photos and widgets without unlocking the devices
• Real-time weather display motion experience and animation
• Desirable, gender-neutral palette and visuals
• Streamlined, curated home space to smoothly manage applications, widgets, and shortcuts
"
To capture the expanding market of smartphone users, we wanted the new Sharp AQUOS handsets to be a unique kind of Android experience, to look and feel different and standout from competitors
," said Paul Pugh, Vice President, Creative, Software Innovation at frog. "
By simplifying the interaction model and reducing clutter through a more curated experience, it will be immediately apparent to customers how to use the phones and make them more personal. In addition, the design caters to current Android users by giving them new tools to organize and optimize their handsets, while personalizing the phone in ways not previously possible.
"
You can check out the video below to see Feel UX in action. At first glance the skin appears to support several attractive features, but as always, the ultimate test will be using it out in the real world to see how it stacks up in everyday life.