Several Apple Watch users are complaining about their timepiece rebooting unexpectedly
13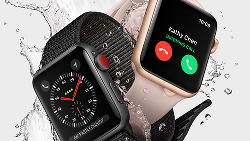 The latest device to run into some trouble is the Apple Watch. And ironically, a device that Apple is counting on to support its health platform is running into difficulties in hospitals of all places. Apparently, there is some equipment used in the ICU that is causing the Apple Watch to reboot unexpectedly. ICUs are often full of telemetry equipment which could explain the issue with the Apple Watch Series 3 with and without cellular.
A nurse who works in a hospital was presented with an Apple Watch Series 3 for Christmas by her husband. But her smartwatch started rebooting every 60 to 90 minutes when she was in the vicinity of the ICU. She had her Apple Watch replaced, but the same exact problem continued to happen. In fact, an Apple Support thread complaining about the same issue has several replies from Apple Watch Series 3 wearers experiencing the same problem inside a hospital.
Apple previously said that "a "pacemaker, defibrillator, or any other medical device" could be affected by "Apple Watch components and radios that emit electromagnetic fields." However, you'll note that this really doesn't say anything about the Apple Watch getting affected by hospital equipment.
One solution that some are trying is to run the Apple Watch on airplane mode while inside a hospital. Doing this, however, will prevent the device from connecting to the internet or a paired iPhone.
source:
Apple
via
9to5Mac