SetiQuest Explorer lets you participate in the search for extraterrestrial life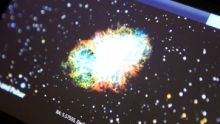 Is extraterrestrial life limited to science fiction? Jill Tarter, director of the SETI Institute, asserts that "All of the concerted SETI efforts over the last 40 some years are equivalent to scooping a single glass of water from the oceans...And no one would decide that the ocean was without fish on the basis of one glass of water."
In order to expand their search for intelligent life, the SETI Institute uses computers to detect anomalous activity at certain habitable areas in space, but computers alone aren't enough. "A computer doesn't do random pattern matching...A computer is not very good at serendipitous detection, and humans are," explains Tarter.
Enter the SetiQuest Explorer app. The app will be available in mid-March in a closed beta for Android (2.2+) devices. Additionally, there will be a Facebook app, and an iPhone app coming in the summer. SetiQuest Explorer will allow so-called "citizen scientists" to look for anomalous features that a computer might disregard.
The great thing about SetiQuest is that it allows you to kill time, while still being (somewhat) productive. Instead of tossing
Angry Birds
at inexplicably evil pigs, you can live out your childhood fantasy of searching for alien lifeforms. No, it's not like living in
Star Wars
, but it's a terrific way to entertain our imaginations, and further the SETI Institute's mission.
source:
SETI Institute
via
CNET