Sequel to Sony Ericsson's Xperia X10 Mini includes Android 2.3 on board
5
The Sony Ericsson Xperia X10 Mini's claim to fame is a commercial that features amazing finger work from a female user as she types out a text message to find out if her significant other is on the way (for those who missed it the first time around, we include the ad below). Now, a sequel to the device appears ready based on a couple of leaked pictures.
While the joint venture didn't exactly set any sales records with the initial Xperia X10 Mini, Sony Ericsson is willing to give the munchkin sized device another shot. To increase the appeal of the device, the specs have been jacked up and the phone now is expected to launch with Android 2.3 out of the box and have a 1GHz processor under the hood, up from the 600MHz chip used on the original unit. This time around the Mini will have both a front and rear facing camera. And similar to the Xperia X10 Mini Pro, a slide out landscape oriented QWERTY keyboard will be a feature of the handset. The 3 inch display is .45 inch larger than the one on the original model.
The original Sony Ericsson Xperia X10 Mini was introduced at the MWC in Barcelona and we could see that happen again with the sequel. The MWC will take place in February.
We will be at both the CES next month and the MWC show in February, so you should check in to catch our hands-on reports on all of the new handsets being displayed at the shows.
source:
IT168
(translated) via
AndroidandMe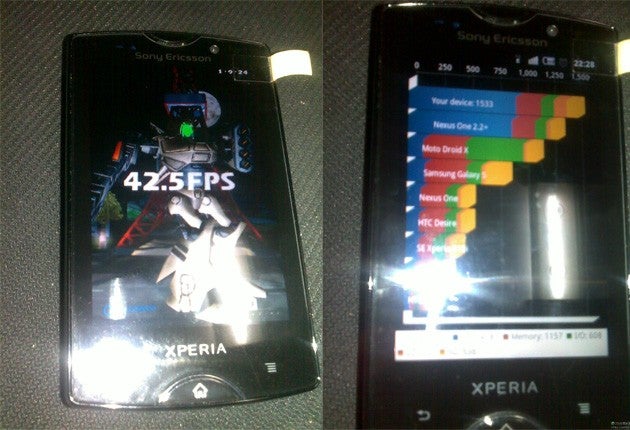 While the sequel to the Sony Ericsson Xperia X10 Mini is still smaller than most Android models, it still scores well on its quadrant test