Send sound emojis on your Apple iPhone or Android handset with Kickstarter project TeleSound
4
How would you like to send someone the
sound equivalent
of a happy face, or a frown, or any emoji that you can think of. You can by using TeleSound, which is a project being funded on the KickStarter site. A small accessory, which resembles one of the ends of an older rotary phone handset, plays the sounds which are selected using an app downloaded onto your Apple iPhone or Android phone. The actual process works like this. Using the app on your phone, you select the person you are sending the audio emojis to, type the emojis you want to play, and hit send. The speaker plays the emoji sound within 30 feet of the corresponding smartphone and a tilt sensor allows you to flip the TeleSound speaker over to stop the sound. If the speaker is not within range of your phone when you hit send, or is inactive at the time, the sounds are stored so you can play them later.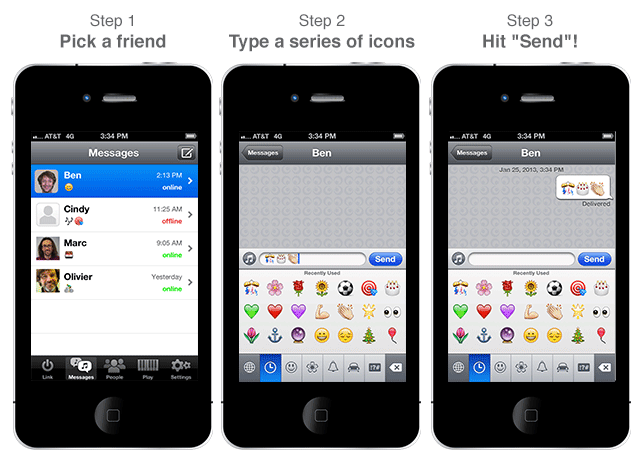 Setting up TeleSound is a snap
The group behind TeleSound is looking to raise $100,000 by March 30th. So far, they have raised only
$8,263
which we have to say, doesn't bode well for the production of the device. To get a TeleSound, you have to pledge a minimum of $34 which gives you a TeleSound in your choice of color plus a fabric bag and includes worldwide shipping. 500 backers are sought at this level bit only 98 have made a pledge. Pledge $64 and get two units and free worldwide shipping. A $124 pledge will get you four units. If you pledge $500, you get four units and get to define a combination of three emojis and the corresponding sound. Lastly, make a $1,000 pledge and you will receive four units and get to select the sound for one of 20 emojis put aside for backers. Shipping is expected to take place in August, but at the current pace it does not look like this project will get funded.
If you are interested in backing the TeleSound, click on the sourcelink. You check check out some of the emoji sounds by clicking on
this link
.
source:
TeleSound
via
TeleCrunch