Senators submit legislation to protect location privacy
7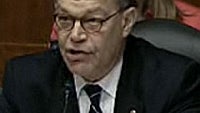 Consumers and regulators have been incensed by the discovery that both
Apple and Google
were storing users' location information. Apple's 'consolidated.db' file was quickly addressed in an
iOS update
, but Senators Al Franken (D-Minn.) and Richard Blumenthal (D-Conn.) have submitted the
Location Privacy Protection Act of 2011
to formally address the issue.
The proposed bill would apply to device/OS makers and app developers, for both smartphones and tablets. It would ensure that consumers are made aware of exactly what information is collected, and
require their expressed consent in order to collect that information
. Wahoo! One more license agreement to read!
Sen. Franken says that "Our laws do too little to protect information on our mobile devices...Geolocation technology gives us incredible benefits, but the same information that allows emergency responders to locate us when we're in trouble is not necessarily information all of us want to share with the rest of the world."
We appreciate the Democrats getting our back, but there is a more practical concern at play: people don't read license agreements. When was the last time you actually read through a license agreement or terms-of-use document, without just checking the "I Agree" box?
source:
AppleInsider
Recommended Stories