Apple releases iOS 4.3.3 which takes care of location tracking worries
25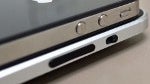 The other day, we
reported
that Apple would soon respond to some of its customers worries over location tracking, by launching the iOS 4.3.3 software update. The company kept its promise as iOS 4.3.3 was launched today for the Apple iPhone, iPad and iPod. The upgrade is supposed to eliminate the backing up of the location data file,
consolidated.db,
to iTunes everytime an iPhone or iPad 3G was synced. While it has not yet been verified, it appears that iOS 4.2.8 is the Verizon version of the update
The download is supposed to shrink the size of the file and reduce the amount of time that the file exists. Apple has said that the iPhone only requires 7 days worth of data while the file had been keeping up to 1 year's worth of information on the location of nearby cell towers and mobile hot spots. And perhaps more importantly, if the device user turns off location tracking, the software is now designed to
actually stop
location tracking.
So, Apple iPhone and iPad users, do you feel just a little more protected today with the update, or is there still more that you would like the Cupertino gang to do?
source:
Engadget
Recommended Stories