Self-combusting iPhone caught on camera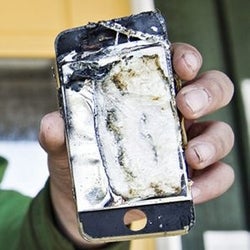 Henri Helminen, 17, was on his way to work on Monday morning when inexplicably, his iPhone started smoking badly. The smartphone, which was resting in his pocket, was just over three months old and worked just fine prior to the accident. Thankfully, he managed to take the blazing handset out of his pocket and toss it on the ground before suffering any major injuries. Video of the event was captured by a nearby security camera.
So far, there is no word as to what caused the iPhone to self-incinerate. However, it might have something to do with the device's lithium-ion battery. If short-circuited by accident, a Li-Ion cell can get hot enough to melt a phone. What do you, guys, think might have happened? Feel free to watch the video and share your opinion with us by dropping a comment.