Seeing a "Could not start Messenger" error on Android? Here's how to avoid it
13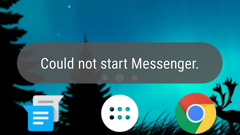 Like pretty much all operating systems, Android is prone to bugs and errors. Fortunately, most of these are ironed out quickly, thanks to regular software updates. We say
most of these
, and not
all
of them, because some (rare) bugs stay with us longer than they should.
One of these lingering bugs is responsible for making the Google Messenger app crash when you try to access it from the recent apps list (assuming, of course, that the app was already open). When the app crashes, Android displays a "Could not start Messenger" error message at the bottom of the screen, and you have to re-open Messenger if you want to use it again (and you
will
want to use it again).
While we haven't noticed exactly when this bug started to become bothersome, folks complaining about it over at the official Google Nexus forum say that it's been around since Android Lollipop (late 2014). The weirdest part is that the bug can force close not just Google Messenger, but also Facebook Messenger - in exactly the same way, though these are totally different apps. We can replicate the error on Nexus smartphones, and it's been reported that it's affecting Samsung Galaxy handsets, too (and maybe devices made by other companies as well).
Right now, it looks like there's no proper fix to this bug, but there is a way to avoid it. Whenever you want to leave Google Messenger or Facebook Messenger open in the recent apps list, use your phone's home button, not the back button to return to the home screen. It seems that the error shows up only when the back button is being used, but everything works just fine if you tap the home button.
Have you encountered this "Could not start Messenger" error on your Android device?
P.S.: Having the latest version of Android (6.0.1 with the April security patch), or the latest versions of Google Messenger and Facebook Messenger does not help when it comes to this bug.
more info:
Google Nexus Forum