See how Apple's new Music app with Beats streaming will look like come iOS 8.4
12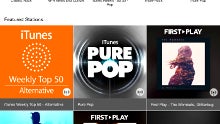 When the next iOS update is released, Apple's Music app will come with a brand new interface, readied for the
revamped Beats Music streaming feature
to be added upon its WWDC announcement in June. If you want to see how the new music app, that will serve as a tune portal for hundreds of millions of iPhone users, will look like, look no further than the iOS 8.4 beta, with screenshots provided below.
Apple purchased Beats for $3 billion in May of last year, and speculation has the tech titan offering a $9.99 a month streaming music service for individuals and a $14.99 plan for families. Looking to compete against such popular music streamers as Spotify, Apple is hoping to sign up certain musicians to exclusivity deals.
Apple is hoping that consumers will be willing to shell out the monthly fee for Beats Music to hear
certain tunes that won't be streamed anywhere else
. Besides facing competition from Spotify, YouTube and others, Jay Z's new Tidal is also looking to take advantage of exclusivity deals with popular artists. The streaming music service has a big advantage over Apple since its co-owners include Rihanna and Beyonce. Both stars are promoting exclusive tunes for Tidal subscribers. The streamer charges $9.99 a month for a standard subscription, with a special high-fidelity stream offered for $19.99 a month. Singer Alicia Keys is also a part owner in Tidal which she says, "puts the power back in the artists' hands."
By next year, streaming revenue should exceed music downloads, which has been in a steady decline. Check out the new Music app interface below, here is Apple's changelog of new features added to the Music mix:
–
All-New Design
. Music app has a beautiful new design that makes exploring your music collection easier and more fun. Personalize playlists by adding your own image and description. Enjoy stunning pictures of your favorite artists in the Artists view. Start playing an album right from the album list. The music you love is never more than a tap away.
–
Recently Added
. Albums and playlists you've recently added are now at the top of your library, making it effortless to find something new to play. Simply tap play on the artwork to listen.
–
Streamlined iTunes Radio
. Discovering music with iTunes Radio is easier than ever. You can now quickly return to your favorite stations in Recently Played. Choose from a selection of hand-curated stations in Featured Stations, or start a new one from your favorite artist or song.
–
New MiniPlayer
. With the new MiniPlayer, you can see what's playing and control playback while browsing your music collection. To open Now Playing, just tap on the MiniPlayer.
–
Improved Now Playing.
Now Playing has a stunning new design that showcases your album artwork the way it was meant to be. In addition, you can begin wirelessly streaming your music using AirPlay without leaving Now Playing.
–
Up Next.
It's now simple to find out which songs from your library will play next — just tap the Up Next icon in Now Playing. You can even reorder, add, or skip songs whenever you like.
–
Global Search.
You can now search from anywhere in the Music app — just tap the magnifying glass. Search results are conveniently organized to help you quickly find that perfect song. You can even start an iTunes Radio station right from Search.