Sculley: Jobs considered Apple phone as early as 1984
17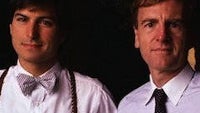 Former Apple CEO John Sculley said that the late Steve Jobs was considering a
Mac phone
as early as 1984. That was the same year that Apple released its first Macintosh computer. Sculley left Apple in 1993 and now runs Sculley Brothers, a firm that invests in entrepreneurs. He was asked during a television interview whether the rumored low-cost Apple iPhone would "
compromise
" the vision that Jobs had for his iconic smartphone.
While Sculley answered that it would not be a compromise to broaden the product line, he also doesn't see Apple offering a $100 phone. Instead, he envisions the company instead working to improve its top-shelf model. Comparing Apple to car maker BMW, Sculley says that Apple doesn't go after low-price buyers. The former Pepsi executive says that Apple's installed base would buy a
higher-priced phone
with a bigger screen.
While pointing out that he doesn't have inside information, Apple's former CEO said that with the smartphone industry maturing, we could see a wearable device from Apple. The company has been
filing for the iWatch trademark in different countries around the world
.
source:
Forbes