Screens leak claiming to be Android 4.2 on the Samsung Galaxy S III
32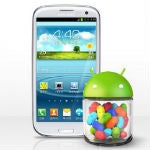 For those of you looking for a software update to your Samsung Galaxy S III, it looks like the Android
4.2
update is in the works, and we even have some new screenshots that look like they are showing what Android 4.2 will look like on Samsung's early-2012 flagship device. Unfortunately, we still don't have any idea when the update could be rolling out to users.
As you can see in the leaked shots, the Jelly Bean update brings lockscreen widgets, Daydream mode, and the quick settings panel, which has been expanded on in TouchWiz. Instead of just the standard icons for brightness, settings, WiFi, cellular, battery, airplane mode, bluetooth, and alarms, there are also options for GPS, sound, screen rotation, Blocking Mode, Power Saving Mode, AllShare, multi-window, WiFi Hotspot, S Beam, NFC, Driving Mode, Smart Stay, and Sync. We kind of feel like that might be a bit of overkill on the settings toggles.
Again, no word on when the update will be coming out, but Samsung has to coordinate with quite a lot of carriers, so it could take a while.