Sapphire stocks in Taiwan rise on rumors that Foxconn will build sapphire displays for the iPhone
5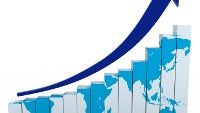 Stock market traders in Taiwan have been pushing up the shares of sapphire manufacturers over the last couple of days. There is speculation that Apple will take another shot at using sapphire glass for the displays on the next iteration of its smartphone. Originally,
Apple planned on using the material for the screens
on the
Apple iPhone 6
and
Apple iPhone 6 Plus
, but the finisher had trouble with low yields. That forced Apple to use its backup plan, which was to employ an ion-hardened display on both new models.
Apple will be looking for a new partner if it intends to put its feet in the sapphire end of the swimming pool again. Last year, amid great fanfare,
Apple partnered with GT Advanced Technologies
. Apple loaned the company about $440 to help build a sapphire crystal factory in Tempe. But when GT Advanced could not meet certain conditions of the deal,
a $139 million payment was held back.
This left GT Advanced's cash balance under a certain level
, which could have led Apple to demand immediate repayment of the loan. GT Advanced was forced into bankruptcy to protect the company.
Yesterday, the shares of three Taiwan based sapphire companies, Crystalwise Technology Inc., Acme Electronics Corp., and Highlight Tech Corp, each rose the daily limit of 7%. A report that contract manufacturer Foxconn will be building displays in a new factory next door to an iPhone 6 assembly facility, spurred the gains in the shares of the stocks. There is speculation that Foxconn will be responsible for turning the sapphire crystals produced by one of the three Taiwan companies, into sapphire displays for the next iPhone.
source:
FocusTaiwan
via
AppleInsider