Samsung's next smartwatch will include NFC for mobile payments
21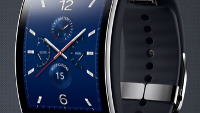 A report out of South Korea on Monday morning reveals that Samsung plans on offering its next smartwatch during the second half of this year. The report adds that the timepiece will include support for NFC, which will allow the watch to be used to make mobile payments. Back in March,
Samsung introduced its Samsung Pay service
for the U.S. and Korea. The service will launch with "select partners" next month. Samsung had no immediate comment on Monday's report.
Apple also employs NFC on the Apple Watch so that owners of the smartwatch can use it to make mobile payments with Apple Pay. Apple's take on an Apple Pay transaction is .15% That means that on a $100 purchase, the tech titan gets 15 cents. While that doesn't seem like a lot of money, consider how many purchases could be made every day using Apple Pay. On each debit card transaction using Apple Pay, the company receives half a penny regardless of the transaction's value.
While Google recently introduced Android Pay at Google I/O last month, a Wall Street Journal report this past weekend said that
Google will not receive any transaction fees
from banks thanks to new rules involving card security standardization. These new rules prevent mobile payment services from charging fees to credit card issuers. Banks are hoping that they will be able to renegotiate their contracts with Apple, which were signed before the new rules started.
This doesn't mean that Google won't make money from Android Pay. Analysts say that each person using the service is worth $300 to Google thanks to advertising and marketing programs.
source:
EconomicTimes
via
Reuters