Samsung's industry-fastest 64GB mobile memory chips enter mass production
15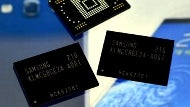 Samsung is at the forefront of embedded flash memory production for our smartphones and tablets, and it just hit another milestone in the long history of "firsts" in its semiconductor business.
Samsung has started mass production of high-speed embedded memory flash for mobile devices, i.e. your phone's internal memory. Capacities come in 16GB, 32GB and 64GB, and the chips achieve the fastest read and write speeds in the industry of 140MB/s and 50MB/s, respectively. This will, of course, speed up the HD video recording and playback, web browsing, and give an overall system boost to the phones and tablets equipped with the fast NAND flash.

This new Pro Class 1500 uses 64-gigabit (Gb) NAND with a DDR 2.0 interface produced with the stunning 20nm process, and we cross fingers to see it sooner than the Galaxy S IV. The new chips are not only fast and with high capacity, but also much smaller than before, as they are offered in two, four-, and eight-die stacks, and you can fit 16, 000 MP3s in the 64GB version that weighs just 0.6 grams, says Samsung.
Recommended Stories