Samsung's first Galaxy Note 3 and Galaxy Gear commercial is very strange
27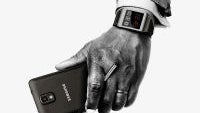 The official release of the
Samsung Galaxy Note 3
is set for tomorrow on AT&T, and the Samsung Galaxy Gear smartwatch is also set to be released soon. That means it's time for the first official commercial for the new companion products. Samsung's new Note 3/Gear ad carries the "Design Your Life" tag line that we've seen before, but the rest of the commercial is a bit of a carnival dream, and it is very strange. It does well to show off the new features that you'll find in the Galaxy Note 3, but it really doesn't do much to show off the Gear features.
The commercial shows off the Galaxy Note 3's new Blinkfeed-eque My Magazine feature, as well as the new stylus Air Command, the handwriting recognition, and the Note's Multi Window mode. The Gear gets far less screen time, and really doesn't seem all that useful at all as far as the commercial is concerned. The girl takes a short video on the Gear (which could have been done on her Note), and gets a notification (which just opens an app on her Note).
Samsung really isn't doing much to justify the $299 price tag on the Gear in this commercial. Maybe we'll see the Gear shown off better in a future commercial, but from what we've seen there isn't too much more to show other than Dick Tracy-style phone calls.