Samsung's first AMOLED Quad HD display gets analyzed: further improved color accuracy, not that green any more
57
Samsung has made great strides with its AMOLED displays in recent years - from the dim and not very color-accurate displays in the first smartphones with AMOLED screens to Samsung Galaxy S5's 1080p Full HD display that is fairly bright and has improved (but not perfect) color accuracy. Now, though, Samsung moves forward with its first Quad HD (1440 x 2560-
pixel
) AMOLED display, first seen on the Samsung Galaxy S5 LTE-A model, a device only sold in Korea, but surely soon coming to more models all over the world.
AnandTech is now the first to analyze the colors of the Galaxy S5 LTE-A's
5.1
-inch Quad HD display, and the results show continuous improvements in AMOLED.
We've already talked about the
difference in sharpness between a Quad HD 1440p and a Full HD 1080p display
, and how it's practically insignificant unless you stare at the screen from microscopic distances. What we're much more interested, though, is color accuracy.
However, Samsung has seemingly made some improvements in the GS5 LTE-A, so the screen does not appear that green-ish. The key word here is 'that green-ish', as while there is improvement, the first analysis shows that green still dominates other colors.
For all else, white point is even closer to our reference point (of 6500K) at 6429K, and grayscale accuracy is the best of any other flagship smartphone. Moreover, color saturations are also very accurate, with deviation of as little as 2.92.
Obviously, the power consumption of a Quad HD display will be higher, but for all else, it seems that Samsung has made AMOLED even better in its new version, and we're looking forward to seeing it in upcoming devices like the
Samsung Galaxy Note 4
and the rumored
Galaxy F
.
Samsung's first AMOLED Quad HD display gets analyzed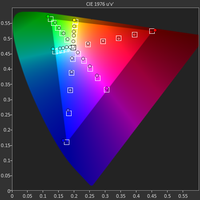 source:
AnandTech