Samsung's experimental Vulkan-based TouchWiz launcher can extend the battery life of the S7 edge
19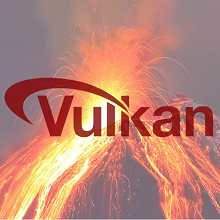 Yesterday at the 2016 edition of the Samsung Developer Conference in San Francisco, the world's largest smartphone maker has demonstrated a new TouchWiz launcher based on the new
Vulkan graphics rendering API
.
According to Samsung engineers, migrating the standard TouchWiz launcher to Vulkan has resulted in a 6% battery consumption decrease when the handset performs basic tasks such as opening the app tray or scrolling pages. On a 3600mAh battery such as the one inside the Samsung Galaxy S7 edge, this can lead to 40 extra minutes of battery life.
Fortunately for the Android ecosystem as a whole, the Vulkan API will soon extend to all new Android smartphones. A couple of weeks ago, Google unveiled the
second Android N Developer Preview
. Among the highlighted changes brought by the new update, the most notable one is considered to be the new Vulkan graphics rendering system.
There's a lot to Vulkan, but what non-developers should know is that Vulkan is a low-level graphics API that can significantly improve both rendering performance and the battery life of Android handsets.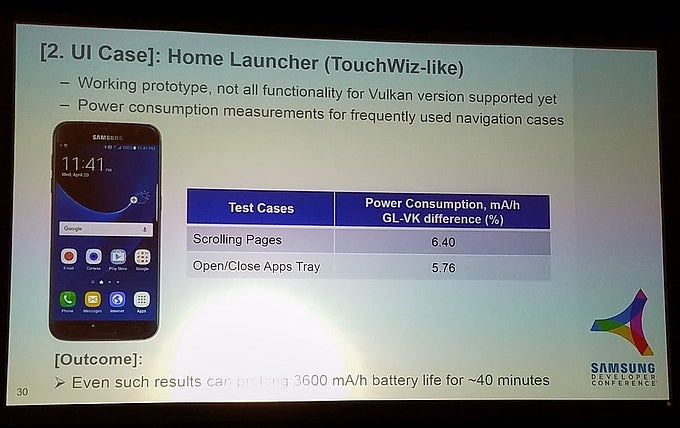 While all upcoming smartphones (those that will get the update as well) based on Android N will be able to access the Vulkan engine, Samsung has a head start in test-driving it: the Samsung Galaxy S7 already makes use of Vulkan, being the only commercial handset to feature the Vulkan API.
Although Vulkan's most notable application are 3D-intensive mobile games, the new graphics rendering system can also make improvements in the way that handsets draw 2D graphics such as the system's user interface, and Samsung's Vulkan-based TouchWiz launcher is probably just scratching the surface of what's possible using the Vulkan API.
Unfortunately, the new TouchWiz launcher is not ready to reach end users just yet. However, we'll be interested in learning more about what Vulkan can do to solve what many consider as being the worst problem with modern smartphones: battery life.
What do you guys think of Samsung's experiment?