A dual-display Galaxy S11 would be risky but Samsung toys with the concept anyway
28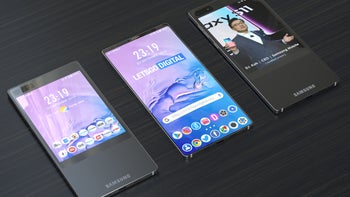 If the second-generation dual display phones like the
Nubia Z20
we are toying with now in the office are any indication, the technology is ripe for the picking from the big brands already.
There have been efforts to tack an extra small screen somewhere on a phone before, but a fully functional second display on the back? That used to be in the realm of concept renders and wishful thinking until just last year.
Move aside, notches and punch-hole displays, dual-screen phones are unorthodox but sound like finding the Holy Grail on the neverending quest for "all-screen" handsets! This may be precisely what Samsung has been thinking, given its experiments with crazy designs like the flip camera on the
Galaxy A80
.
That one, however, whether because of the rotating mechanism, or Samsung's pairing of sensor and software, churns out pictures that are average at best, while the rear-cam Nubia
Z20
selfies are out of this world.
Perhaps this is why Samsung has decided to explore the dual-screen concept up close and personal, and
LetsGoDigital
has found out a patent grant for precisely such a phone, complete with a punch-hole display and dual cameras, too.
Take a gander at the rendered patent filings, and wonder if and when this will make it to fruition.
Galaxy S11
? Nah, too crazy of an idea for flagship series, maybe something in the A line, as that's where Samsung has been experimenting lately.