Samsung's bada OS is now on 8.1 million handsets
5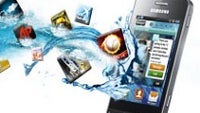 Samsung's home-made bada OS is virtually non-present in the States, but that didn't stop it from outranking Microsoft's Windows Phone platform, backed by Redmond's big bucks. And now, we have the official number of Samsung
bada phones out there – 8.1 million
.
In the third quarter, Samsung managed to end Apple's short, one-quarter reign, as the
world's biggest smartphone maker
and grab that title for itself. Bada accounted for 6% of those nearly 28 million smartphones the Korean company sold throughout the third trimester.
App downloads for bada stood at 110 million
from the Samsung Apps store, which has some 13,000 titles to choose from.
For bada, a relatively new platform, it all started in June 2010 when the first handset on the platform, the pretty successful
Samsung Wave
launched. Since then, Samsung has worked on an update introducing multitasking among other features and bringing bada on par with other mobile operating systems.