The Galaxy Fold's screen emits record low harmful blue light, gets 'Eye Comfort' certification
3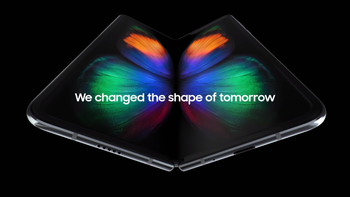 If you don't
peel off the cover glass
, err,
polyimide film
of Samsung's
Galaxy Fold
display, it may loyally serve you as a pretty darn good OLED screen, say the Germans from the TÜV Rheinland quality certification body.
After a series of tests done on the Fold, they measured a drastic decrease in the amount of harmful blue light that the screen emits. Those are the rays that can keep you up at night if you had interactions with your phone's display shortly before saying nighty-night.
Said 415-455 nanometer wavelengths are kept to a minimum on the
Galaxy Fold
, it turns out, despite the unorthodox bendable display. Тhe 7.3-inch foldable organic light emitting diode panel mounted on the phone has obtained "Eye Comfort" certification from the renowned German technical evaluation agency as a record low 7% of its wavelengths are in the harmful blue part of the spectrum.
That's the same level achieved by the
Galaxy S10
screens, again as tested by TÜV Rheinland, and certified for eye comfort. Compare this to an average 12% level for OLED displays, and 18% for LCDs, and it becomes clear that Samsung has mastered the nitty-gritty of organic light emitting diodes production.
To cut on harmful wavelenghts a manufacturer needs to implement extra filters and software that used to affect color accuracy on OLED displays. With the new diodes production methods, Samsung managed to keep the correct DCI-P3 color gamut representation while at the same time reducing the hazardous blue light to a minimum.
As per Jeeho Baek, executive vice president and head of the Mobile Display Sales and Marketing team at Samsung Display:
In a market where technical innovation is materializing at a remarkable pace, OLED is setting the pace for change in smartphone design as these foldable, full screen displays prove. We are enabling enhanced resolution, while considerably improving the user environment by minimizing strain on the user's eyes."