Samsung's JK Shin launches the Note II in Korea, says he's meeting with Google today to fend off Apple
30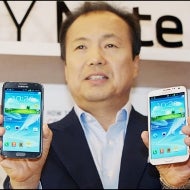 Samsung executives have scheduled a sitdown with Google today to make a coherent strategy for the Android patent wars with Apple, it seems.
Samsung Mobile's head, JK Shin, unveiled the
Galaxy Note II
in Korea yesterday, and said he is meeting with Google's Eric Schmidt to discuss a joint strategy for patent defense against Apple.
"
I will meet Google Executive Chairman Eric Schmidt on Thursday in Seoul
," said Shin, but declined to give any further comments on what the two might be coming up with. Google's exec is down in Korea to introduce the
Nexus 7
tablet, and, apparently, meet with Samsung to talk shop.
As for the Galaxy Note II launch, JK Shin said Samsung has upped its smartphones sales projections for the year now:
Samsung revised up this year's total handset sales target to 400 million from our earlier projection of 370 million. I have no doubt that the Note 2 will hit the jackpot. We don't have any problems to sell over 3 million Note 2s during the first three months after the device was launched...
In the United States, the Galaxy Note was only introduced via AT&T. But the Note 2 will be released by all major U.S. [and European] carriers.
More consumers in Europe and the United States are acknowledging the Galaxy Note's S-Pen functionality. We've been receiving very constructive responses from consumers in existing developed markets.