Samsung Galaxy S6 edge costs more than an iPhone 6 Plus to make, the curved screen is its most valuable component
99+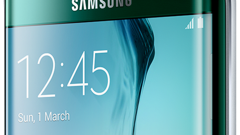 According to a report issued by research firm IHS, a Samsung Galaxy S6 edge 64 GB (Verizon model) costs around $290 to build. This means the handset is more expensive to make than any of Apple's latest iPhones, which can cost up to $263 (iPhone 6 Plus 128 GB) to manufacture. The S6 edge is obviously also more expensive to build than
a Galaxy S5 ($256)
.
Unsurprisingly, the most expensive component inside the
Galaxy S6 edge
is the curved Quad HD display: at $85 per unit (you can buy a decent,
complete
smartphone for that kind of money), the unique, dual-curve screen accounts for 29% of the total cost of an S6 edge. The next most expensive part inside the S6 edge is the octa-core Exynos 7420 processor, which is manufactured by Samsung itself, and costs $29.50 to make.
Just like the regular Galaxy S6, the S6 edge has been available to pre-order since March, and reached stores on April 10. However, Samsung reportedly
"failed" to predict the success
of the S6 edge, that's why the handset will likely be hard to find until the South Korean company ramps up production.
It's said that the Galaxy S6 edge accounts for about 50% of all Galaxy S6 sales, despite the fact that it's about $100 more expensive (on, or off contract) than the regular model.
sources:
IHS
,
Re/code